FINLAND
Turku University of Applied Sciences (tuas.fi) / Turun ammattikorkeakoulu (turkuamk.fi)
EXPERTS
Eeva Timonen-Kallio, Principal Lecturer, PhD, works at Turku University of Applied Sciences, Finland as a lecturer in child welfare social work and as a research group leader in the RDI group 'Social inclusion and Active citizenship'. Her personal research interest is to examine what competences are considered relevant for RCC care workers and how an educative sense of community, practice methods and multi-agency collaboration are implemented in the RCC context. She is the Vice President in FESET – European Association of Higher Education Institutions for Socio-Educational Care Work. She was the Editor-in-Chief for the peer-reviewed journal of European Journal of Social Education 2006–2014.
The interdisciplinary ERCCI team of European experts was brought together under the initiative and leadership of Eeva Timonen-Kallio. Her experience in coordinating several EU projects in the RCC field and teaching RCC practitioners for two decades has given her an exceptional opportunity to reflect the challenges in institutional RCC and cultivate the definite need to strengthen the competencies and skills of residential child care staff in the context of targeted higher education courses.
"I'm extremely pleased to work and collaborate with this group and to respond to the societal challenge of directing practical knowledge and academic expertise in finding solutions for developing a high-quality RCC intervention".
eeva.timonen-kallio@turkuamk.fi

Tiina Pelander, PhD (nursing science), RN is working in Turku University of Applied Sciences, Finland  as a Degree Program Leader and Principal Lecturer, a member of Research Group Clinical Expertise in Health Care. She is co-coordinator of mentors of digitalization in TUAS. Her current interest is focusing on pedagogical innovations in HEI education e.g. digitalization, robotics in elderly care and quality of pediatric nursing care from children's perspective, the development and using the Child Care Quality at Hospital instrument for different European countries. She is a deputy member of executive committee in the Finnish Society for Childhood Studies.
"I'm working as a digital mentor in this project, building a transnational MOOC delivered entirely in internet with innovative e-learning pedagogy. Building a MOOC will be goig to be an exciting adventure –  totally new area for me, but it is interesting to build it with high qualified experts in the field of social pedagogy."
tiina.pelander@turkuamk.fi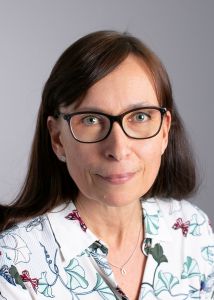 Lähde seuraamaan ERCCI-osaamispolkua!
Matkan varrelta voit poimia omaan osaamisreppuusi parhaat käytännöt ja uusimmat opit, jotka
auttavat sinua kehittymään sijaishuollon ja laitoskasvatuksen ammattilaisena.
– Mikä on ERCCI?
ERCCI tutkii ja vertaa sijaishuollon
käytäntöjä ja henkilöstön osaamistarpeita
Espanjassa, Italiassa, Liettuassa,
Saksassa ja Suomessa, jonka pohjalta rakennetaan sijaishuollon
erityisosaamisen täydennyskoulutusmoduuli 5/2021 mennessä.
– Lähde matkaan tutkimaan ja kehittämään osaamistasi:
Pedagogisen suhteen rakentaminen
Kuntouttava yhteisöllinen arki
Sijaishuollon perhetyö
Moniammatillinen yhteistyö psykiatrian kanssa
Päivittäisraportointi ja eettinen dokumentointi
Reflektiivinen työote; oma jaksaminen
– Ammatillisen osaamisen vahvistaminen
Laitosmuotoisen sijaishuollon piirissä ovat kaikkein haavoittuvimmissa olosuhteissa kasvaneet lapset ja nuoret. He ansaitsevat parhaan mahdollisen avun ja tuen arjessaan joka edellyttää toimivia yhteistyökäytäntöjä palvelusektoreiden yhteys- ja rajapinnoilla.
ERCCI-hankkeeseen pohjautuva koulutusmoduuli on helposti verkossa saatavilla sijaishuollon sosiaali-, terveys- ja kasvatusalan ammattilaisille.
– Opiskelu tapahtuu verkko-oppimispolulla
Hankkeen kulmakivi on avoin 'open access' MOOC-verkkoalusta, jolla itsenäinen opiskelu on ilmaista. ERCCI-verkkokurssi jaetaan osaamisalueisiin, jotka kukin sisältävät videoklippejä, artikkeleita, testejä, tietokilpailuja, pohdintatehtäviä jne. Kunkin jakson suorittaminen vaatii aikaa keskimäärin 3–4 tuntia. Opiskelu on aikaan ja paikkaan sitomatonta ja joustaa erilaisiin aikatauluihin ja voidaan suorittaa hyvin työn ohessa. CV:hen liitettävästä opintomoduulin suoritus- ja osaamismerkistä peritään maksu.
– Lisätiedot ERCCI-hankkeesta
Eeva Timonen-Kallio
Yliopettaja, tutkimusvastaava
eeva.timonen-kallio@turkuamk.fi
Turun ammattikorkeakoulu, www.turkuamk.fi