NEWSLETTER 1
Professionalization in residential child care
Residential care is a measure that remains as necessary in the child protection systems in Europe. Although family foster care is always a priority measure, the demand for residential care is growing due to the increase in profiles of adolescents with serious behaviour problems difficult to be placed in family foster care. As a consequence, residential care is becoming a specialized service for the most severely damaged adolescents.
Intervening in the residential setting with these adolescents with complex needs requires adequate training for professionals. However, there is no professional model for staff working in residential care in Europe, nor a common or agreed educational curriculum.
The specific objectives of the ERCCI project are:
1) To elaborate what and how residential child care as an intervention and future Residential Child Care (RCC) workers need for integrated training are in focus in the partner countries.
2) To develop an understanding of qualification requirements for the RCC workforce that shares common values and respects the diversity of possible approaches to realize the across Europe.
3) To design collaboratively a study module which meets the needs of the partners and future challenges of RCC training and testing it with teachers, students and stakeholders.
4) To enable the exploitation of produced deliverables into the other European countries and realize them in training educational levels in bachelor and masters HEI training as well as workplace base training.
Our ERCCI expected results are:
1) Report on RCC intervention: competences and practices in Europe, producing a summary of current evidence about actualk competence profiles for th RCC workers in partner countries and across Europe.
2) Competence based study module for bachelor, master's and workplace training level. To guarantee wide access for learners of different age, profile and expertise and needs, ERCCI will develop a multiple tool combining a MOOC (massive Open Online Course) with open badges as certification.
3) ERCCI platform containing "Innopeda Learning" approach with study module and the usage of eLearning pedagogy. The detailed description of the study content in three level will be emerged into ERCCI Platform: objectives, structure of the studies, reflective e-learning, competencies, study material and eLearning pedagogy.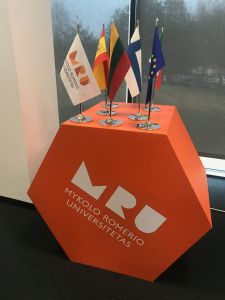 Collaborative and participative methodology
A pedagogy of innovation is applied, entailing four critical student interactions: with content, teacher, other students and themselves (reflective and reflexive work).
Three teaching/training/learning events will take place in Vilnius (Lithuania), Milan (Italy) and Kessel (Germany) from 2018 to 2020.
The first meeting took place in Vilnius hosted by the University Mikolo Romerio University. Partners presented a description of the practice and characteristics of residential child care in their countries as a first step to make a report on the RCC intervention in Europe. This "mapping" will be complemented with empirical research in each country by means of interviews and focus groups with different stakeholders.
As a second main task, students and teachers worked together in a first approach to key contents and competencies for ERCCI study model.
Stakeholders involvement and dissemination
Stakeholders (RCC staff, managers, policymakers, researchers, students, etc.,) are a crucial part of the dissemination strategies of ERCCI project. In order to engage them in our project two multiplier events are designed. The first one was held in spring 2019 in all country partners, where groups of 1-30 stakeholders were attending a one-day session of presentations and debates about RCC tr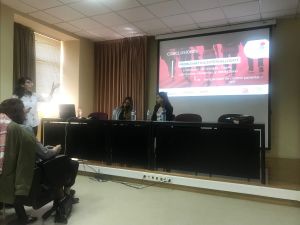 aining and staff needs.
Multiplier event at University of Oviedo (Spain). More than 20 practitioners, directors of RCC agencies and representatives of the